IMPROVING CHILDREN'S MORALS AND INTEREST IN LEARNING THROUGH TUTORING AND OUT BOUND MEDIA
Keywords:
Tutoring, Outbound, Human Resources
Abstract
The quality of human resources is essentially determined by education. Through tutoring and outbound activities, it is proven that children's education is not only obtained at school; this activity is intended to be able to provide learning for children to be able to have good character traits. The activity method uses a theoretical approach and a practical approach. With the PAR (Participatory Action Research) approach, the service team views that the existence of tutoring and outbound activities for children is an important asset. The results of this development for children in outbound have a direct impact on the formation of morals, character and recreation in students, so as to improve the quality of education and skills. student. Tutoring and outbound is one of the learning methods that is a breakthrough so that children can learn comfortably and feel happy. This is considered important as an effort so that children grow up to be active individuals.
References
Agustinova, D.E. (2015). Hambatan Pendidikan Karakter di Sekolah Islam Terpadu Studi Kasus SDIT Al-Hasna Klaten. SOCIA: Jurnal Ilmu-Ilmu Sosial, 12(1), 12-18
Hakim, A., & Kumala, F. (2016). Pengembangan Karakter Melalui Kegiatan Outbound. Jurnal Moral Kemasyarakatan, 1(2), 173–182.
Kosasih, E. (2018). Partisipatory Action Research (PAR) Implementasi Kebijakan Wajib Belajar Pendidikan Dasar Sembilan Tahun Di Kabupaten Serang. Jipags, 2, 323–347. https://khamdanguru.wordpress.com/2012
Lutfia, D., Mardianto, M., & Duryati, D. (2014). Pengaruh outbound terhadap kecerdasan moral anak sekolah dasar. Jurnal RAP UNP, 5(2), 125–135.
Ma'ruf, M. A., & Purwanto. (2020). Pendampingan dalam meningkatkan kemampuan public speaking santri di pondok pesantren Mamba'ul Huda Kaliabu. Khidmatan, 1(1), 9–14.
Rocmah, L. I. (2012). Model pembelajaran outbound untuk anak usia dini. Pedagogia: Jurnal Pendidikan, 1(2), 173–188. https://doi.org/10.21070/pedagogia.v1i2.40
Santoso, A., & Rusmawati, Y. (2019). Pendampingan belajar siswa di rumah melalui kegiatan bimbingan belajar di Desa Guci Karanggeneng Lamongan. Jurnal Abdimas Berdaya: Jurnal Pembelajaran, Pemberdayaan Dan Pengabdian Masyarakat, 2(02), 36–43. https://doi.org/10.30736/jab.v2i02.7
Supriyanto, B. (2014). Penerapan discovery learning untuk meningkatkan hasil belajar siswa kelas VI B mata pelajaran matematika pokok bahasan keliling dan luas lingkaran di SDN Tanggul Wetan 02 Kecamatan Tanggul Kabupaten Jember. Pancaran, 3(2), 165–174
Widad, H. M. Z. W., Jumiati, I. E., Rosyada, D. R. A., Septiani, M., Fahrezi, R., Gulantir, R. S., Gabe, Y. W. B., Umam, K. and Sajidah, A. (2022). Bimbingan belajar dalam meningkatkan minat belajar siswa sekolah dasar di Desa Batukuwung. Bantenese: Jurnal Pengabdian Masyarakat, 4(1), pp. 20-34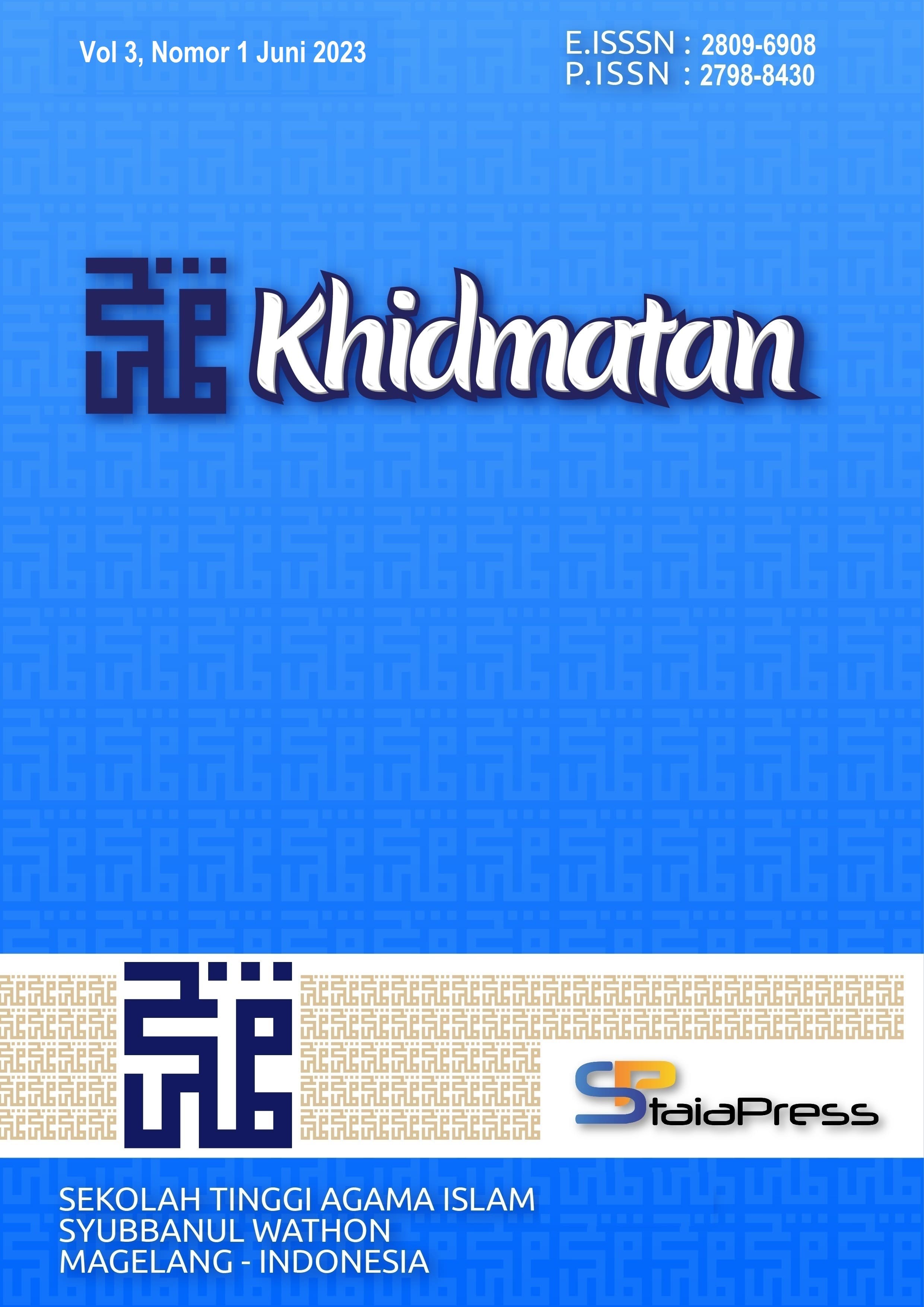 Downloads
How to Cite
Nur Khaulawi, Sulkifli, Afit Rizal Susanto, & Rosowulan, T. (2023). IMPROVING CHILDREN'S MORALS AND INTEREST IN LEARNING THROUGH TUTORING AND OUT BOUND MEDIA. Khidmatan, 3(1), 37–43. https://doi.org/10.61136/khid.v3i1.35
License
Copyright (c) 2023 Khidmatan
This work is licensed under a Creative Commons Attribution-NonCommercial-ShareAlike 4.0 International License.