IMPROVING THE QUALITY OF WUDHU IN AL-HIDAYAH TPA THROUGH MENTORING ACTIVITIES
Keywords:
Practice of ablution, Participation Action Research, Al-Quran Education Park
Abstract
Islam is very concerned about cleanliness/holiness and views it as important as an inseparable part of a series of worship. In the implementation of worship, there is a need for cleanliness/holiness itself. This means that true worship is worship performed by people who have maintained cleanliness and purified themselves. There are still many researchers who see children or people performing ablution carelessly or imperfectly. This time the researcher took the theme of learning the practice of ablution which aims to make the children of TPA Al-Hidayah able to carry out their obligations properly and correctly, so that what we teach them can be useful for the life of the community or the life to come. The research method used is the PAR (Participation Action Research) method, covering learning activities, mentoring, planning, research, development to the implementation of research programs involving the wider community or specific target groups. As for the results of this service program research, children can distinguish between rubbing and washing in ablution.
References
Aibak, K. (2015). Fiqih Tradisi Menyibak Keragaman dalam Keberagaman. Yogyakarta: Kalimedia
Aini, A. I., Khaudli, M. I., & Suprapto, R. (2018). Pemberdayaan Ekonomi Masyarakat melalui Pemasaran Wisata Kuliner Jajanan Tradisoional di Desa Cantuk Kabupaten Banyuwangi. ENGAGEMNT; Jurnal Pengabdian Kepada Masyarakat, 2(2), 168–175.
Departemen Agama RI. (1989). Al-Qur'an Terjemahan, Semarang: CV. Toha Putra
Khayati, M., Purwanto, & Mustofa, A. (2021). Pendampingan program perilaku hidup sehat pada masa kenormalan baru: Studi kasus di Desa Bangsri. LOGISTA: Jurnal Ilmiah Pengabdian Kepada Masyarakat, 5(1), 173–179.
Ma'ruf, M. A., & Purwanto. (2020). Pendampingan dalam meningkatkan kemampuan public speaking santri di pondok pesantren Mamba'ul Huda Kaliabu. Khidmatan, 1(1), 9–14.
Nasution, H. (1985). Islam ditinjau dari Berbagai Aspeknya, Jilid 1. Jakarta: UI Press, 1979
Rifa'I, M. (2015). Risalah tuntunan sholat lengkap. Semarang: PT. Karya Toha Putra
Siswanto, S. (2013). Model pengembangan pendidikan agama Islam di sekolah. Tadris: Jurnal Pendidikan Islam, 5(2), 142-157.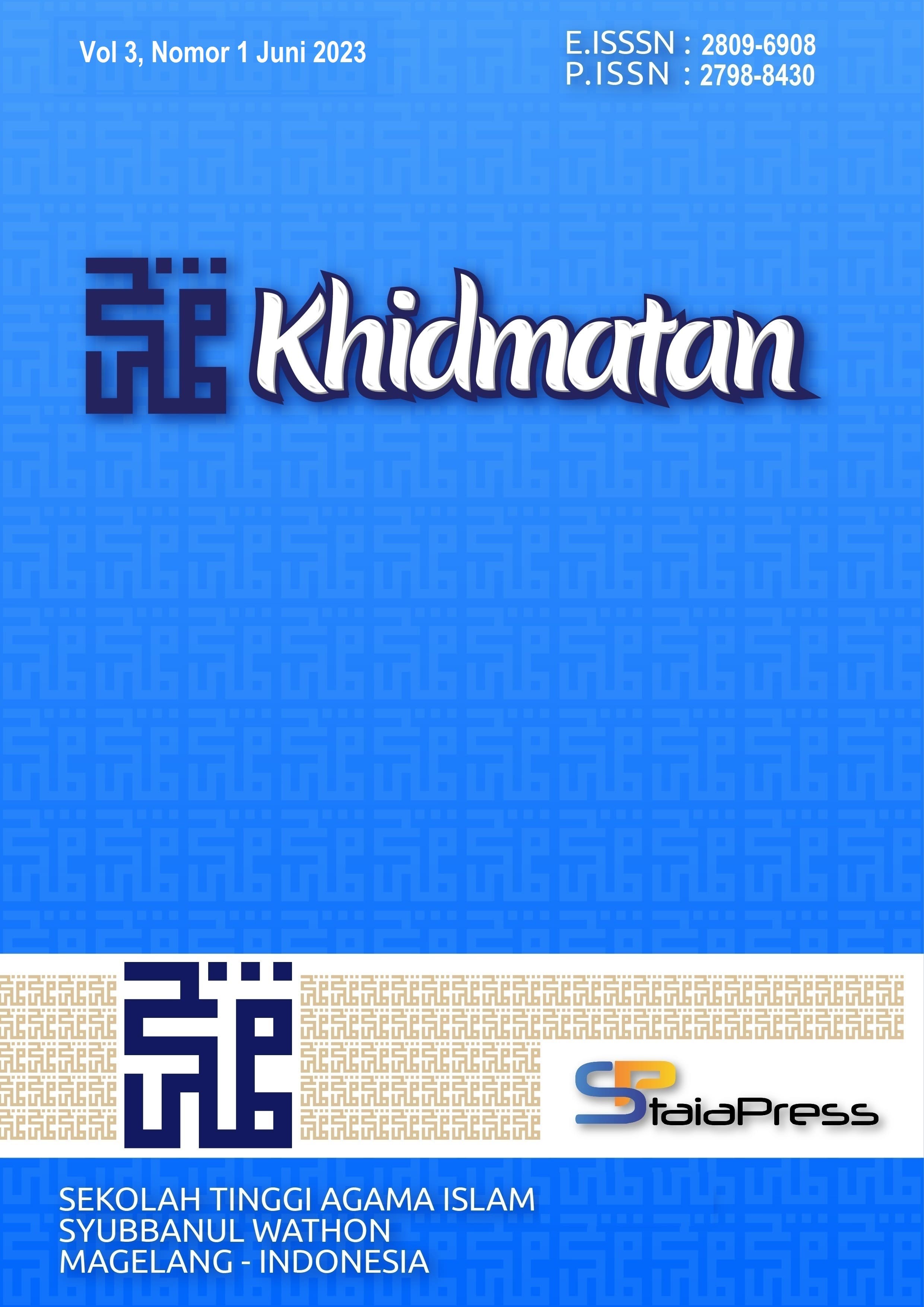 Downloads
How to Cite
Tzalsa Nur Khikmah, Lali Syarifah, & Saifudin, A. (2023). IMPROVING THE QUALITY OF WUDHU IN AL-HIDAYAH TPA THROUGH MENTORING ACTIVITIES. Khidmatan, 3(1), 29–36. https://doi.org/10.61136/khid.v3i1.40
License
Copyright (c) 2023 Khidmatan
This work is licensed under a Creative Commons Attribution-NonCommercial-ShareAlike 4.0 International License.